A closer look at our colourful July outdoor collection
Summer's out! Here comes the sun, the hols, and some downtime at last to enjoy our gardens to the max.
To get you off to a bright start, we've chosen some real classics this month for your garden and containers. First, there are not one but three members of the cheerful daisy family (Asteraceae) from different parts of the world to bring a smile to your face all summer long: the Canary daisy, with its mass of white and yellow flowers, the vibrant African daisy, and the mauve Cut Leaf daisy from Down Under.
Then there's the glorious Snapdragon: its lush fragrance is a wonderful thing on a warm summer's day, and their flowers are gorgeous too. The humble Diascia, with its tumbling cascade of softly coloured flowers, is actually a cousin of the snapdragon; have a close look at their flowers and you'll see the family connection. Low-growing and easy-care, it's a great choice for containers, baskets and the front of borders.
If you've been dreaming of escaping to a tropical island – and who hasn't this year! – we've got two exotic beauties to take you there: the fiery flame of the lush Canna, and a bright-scarlet Busy Lizzie.
Lastly, we like to surprise you sometimes with something weird and wonderful every now and then: this month we've got the Corkscrew rush, which is great for planting in a moist spot by a pond. It makes for a real talking point - one to show your friends as you soak up the sunshine this July.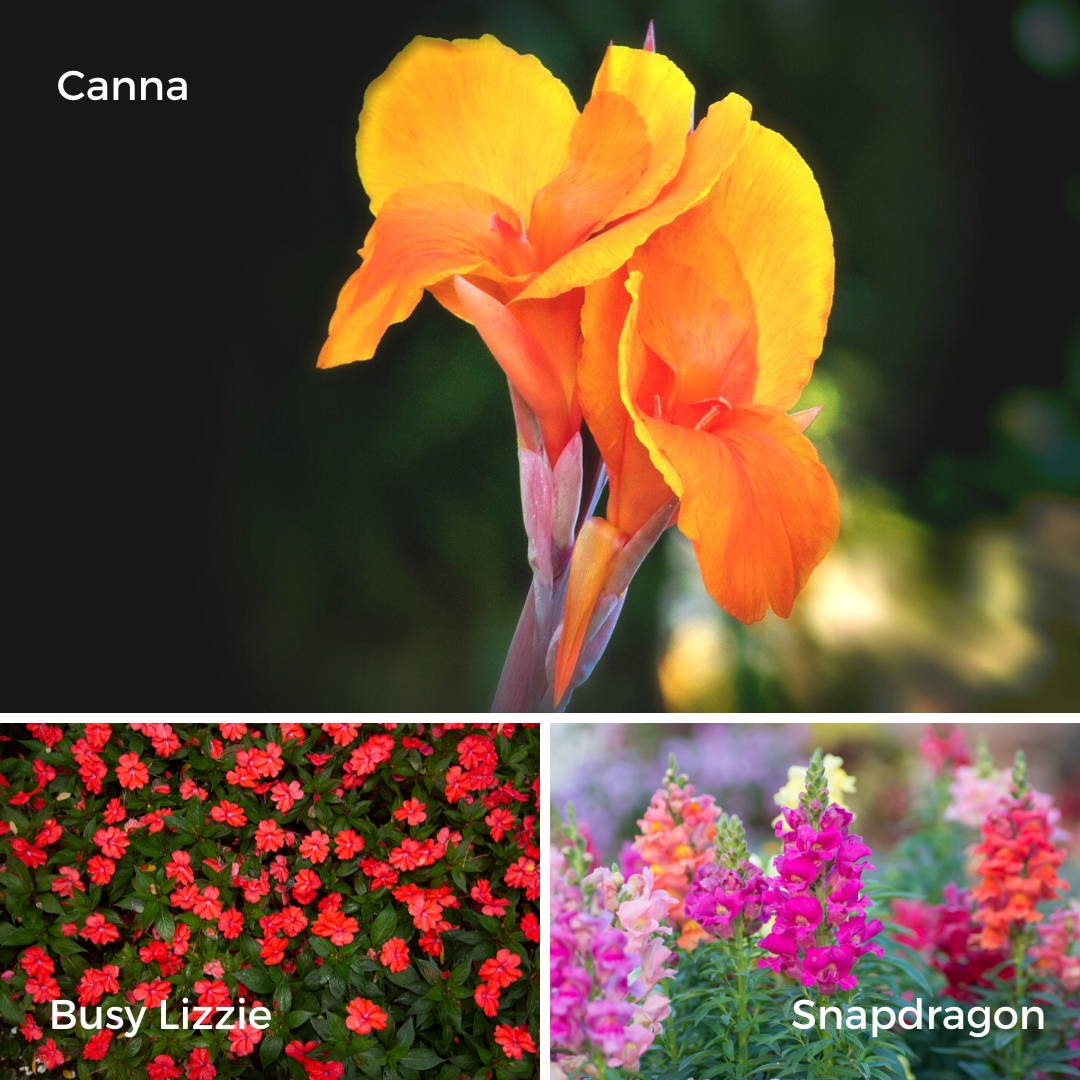 A closer look at this month's collection
Canna 'Cannova'
Aren't cannas glorious? We think it's the way their tall spires explode in a burst of colour – like a firework! Cannas are proper statement plants; in a border or container, they add a hot pop of colour to your garden. What's more, you can rest easy if you have a furry friend at home; unlike true lilies, the canna is pet-friendly, and its large flowers will have wildlife of all sorts flying in for a drink of nectar.
Gerbera 'Colour Game' /African daisy
You can always rely on the African daisy to cheer up a border or container with its endless flowers in hot colours emerging from a clump of heart-shaped leaves. It will tolerate a little drought, but if you plant your gerbera in a container, it's best not to let the compost get too dry. Bright colours help to attract insects, so their vibrant flowers will get your garden buzzing!
Chrysanthemum
Often commonly referred to as mums or chrysanths, this beautiful flowering plant ranges in petal colour. We would advise keeping some space between your mums as they will become larger each year. Fun fact, these sun-loving plants were first grown in China over six centuries ago!
Argyranthemum frutescens 'La Rita White'/Canary daisy
Nothing says summer like the smile of Canary daisies! This cheerful, humble plant will reward you for months on end with a mass of classic white yellow-centred daisies in a dense, evergreen mound of silvery leaves. Easy to look after, and a good choice if you live by the sea as it doesn't mind salty air. The local butterflies will be happy too!
Cupressus macrocarpa 'Goldcrest wilma'
This evergreen plant is great for adding a splash of light green foliage. This bright fellow is known to reach heights of up to 6ft in the ground but can also grow happily in containers and pots. The 'Goldcrest Wilma' is fairly tolerant of most weather conditions but does- like many of us- prefer a sunny spot. Walk past it and you'll catch a lemon-like fragrance from the foliage.
Antirrhinum majus / Snapdragon
The lush snapdragon is one of the glories of the English summer, with its tall fragrant spires in a host of colours rising up from the border. It looks fantastic in a container, and the (good) insects just can't get enough of it!
'Brachyscome' / Cut LEaf Daisy
A charming perennial from Australia, the cut-leaf daisy is a popular bedding plant for a great show of colour all summer long. With a mass of little mauve daisies on a mound of bright-green tiny leaves, its compact habit makes it ideal for containers, and it works really well as ground cover too.
Diascia / Twinspur
This long-flowering South African perennial is generally grown as an annual as it needs some protection from frost. Low-growing and easy-care, it will reward you with masses of softly hued little flowers in a mound of colour. Perfect for the front of borders, tumbling over a wall, or in pots and window baskets.
Impatiens walleriana / Busy Lizzie
Who doesn't love a busy lizzie? Brilliant for bedding, hanging baskets and window-boxes, this low-maintenance perennial is smothered in gorgeously vibrant scarlet flowers. Very easy to care for, it keeps on flowering right up to the first frosts.
Juncus effusus 'Spiralis'/ Corkscrew rush
This weird and wonderful rush is a bit of a Willy Wonka plant - its twisty, dark-green, shiny stems will definitely get your friends talking!
Plant it by a pond or in a damp border for maximum moisture; it will look great in a pot too, just make sure it doesn't dry out. It flowers in late summer – little clusters of light-brown flowers on thin stems – but the stems are what makes this rush so special.
Our plant maintenance manager, Sophia, has used her expertise to develop planting plans for this months collection so your planters will look just like the pros!
Download the plans and be inspired here:
---