How to care for your Rainbow Peperomia
Why we chose this plant
Peperomia are incredibly easy-going, low-care house plants, which makes them great for beginners. And Rainbow is no exception! It's a relatively new variation - also known as the Tricolour - and is becoming incredibly popular among Peperomia enthusiasts! Its thick, glossy green leaves are just stunning with their rosy pink edges - it's just gorgeous and was a no brainer for the Pet-Friendly Plant of the Month for June.
Native habitat
Rainbow Peperomia is part of the Piperaceae family and is native to the subtropical and tropical regions of Central and South America.
Light and position in the home
Rainbow Peperomia is quite happy in most light conditions from shade to moderate sun. Bright, indirect sunlight is best but opt for a bit more shade if that's not an option - just avoid direct sunlight. It can be quite sensitive to full sun.
Foliage and flowers
Rainbow Peperomia has an upright growth habit and large dark green leaves, making it an ideal choice for containers. The leaves on this plant are thick, and its edges are creamy-white with a slight touch of rosy-pink shade. This slow-growing perennial also have red-coloured stems, which makes them even more striking.
This plant is safe for homes with pets.
Temperature
Given its tropical origins, this plant prefers warmer temperatures between 15-26 degrees Celsius.
Watering
Overwatering is a common issue amongst Peperomia owners. To avoid root rot, aim to water your plant every ten days or so, checking the soil to make sure that it's properly drying out in between. Rainbow Peperomia will enjoy a misting from time to time.
Did you know?
There are over 1500 different varieties of Peperomia. They're all unique, with beautiful foliage. You can find other Pereromias in our Indoor Plant Boutique.
We've included a tasty FREEBIE this June!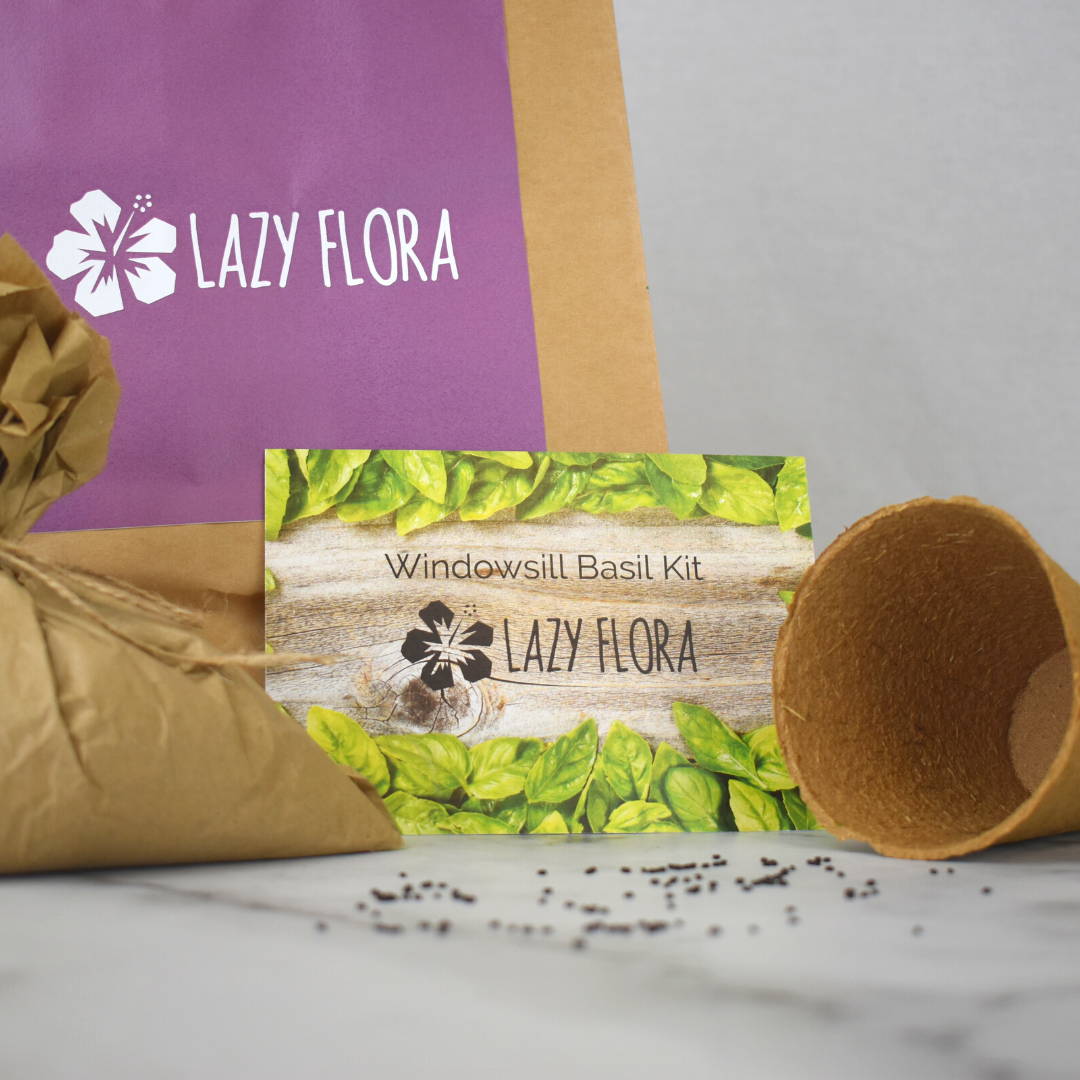 We've included everything you need to grow basil as your freebie this month. This windowsill basil kit includes seeds, peat-free compost and a cardboard planter. Yes, we are sending you the gift of tasty food in the form of basil! Basil is a versatile herb that can be grown both indoors and outdoors. It is often paired with Italian dishes such as pizza or tricolour salad and you can even make your own pesto with it! Are your tastebuds tingling yet? If planted in June your basil should be ready to harvest and enjoy in 3-4 weeks, just in time for BBQ season!
---