Pops of bright pink and red- our August outdoor collection revealed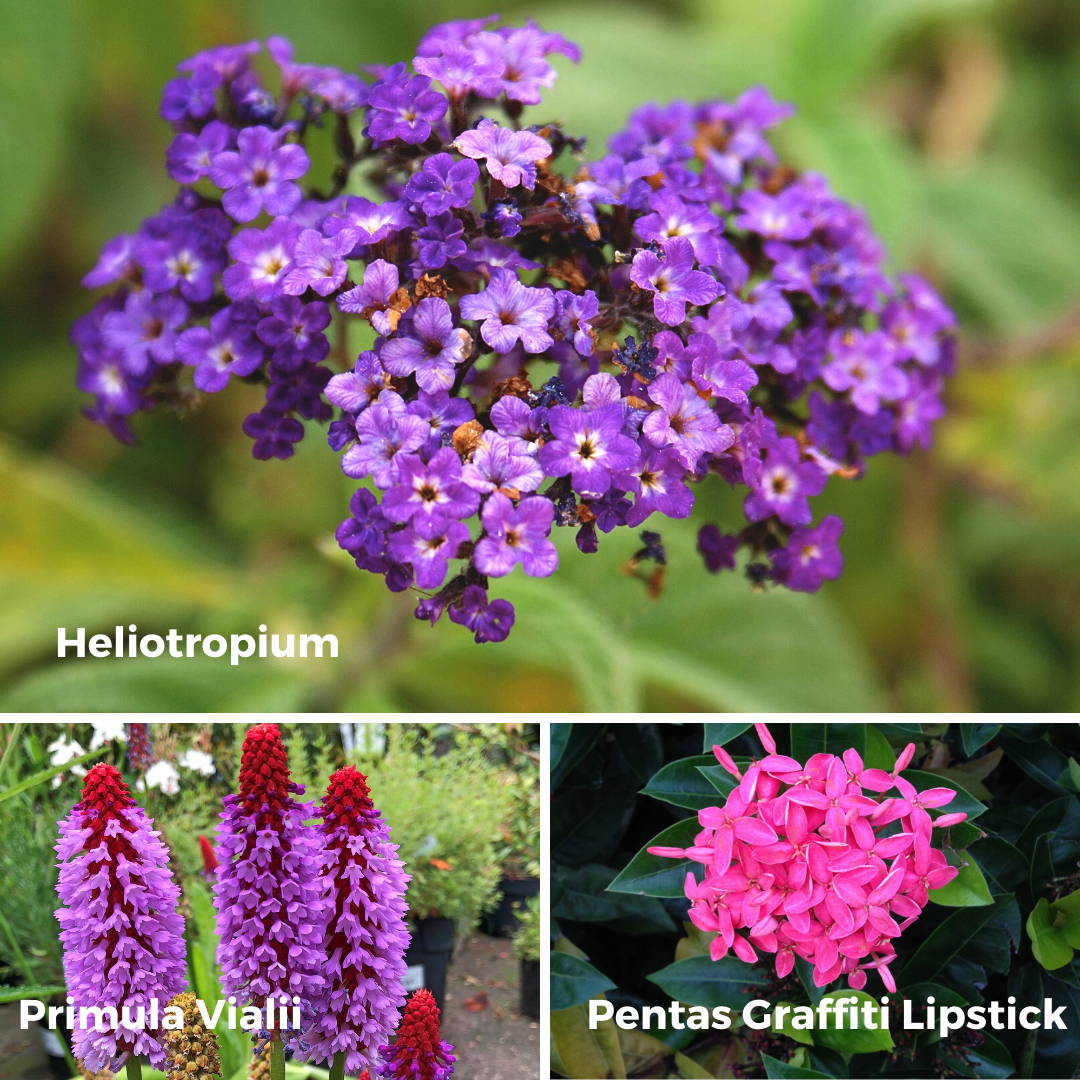 August's collection is full of beautiful, delicate blooms and striking, colourful plants that will contrast and complement each other perfectly. Think English country garden with pops of bright pink and red - gorgeous, right?
We also have some plants with gorgeous fragrances for you this August, starting with Angelonia! This plant blooms with tiny bunches of lilac to deep purple flowers that some people think smell like apples! Also sweetly scented is Heliotropium, which blooms tiny flowers in a really unique dome shape.
Also in this collection is Nicotiana, also known as the Tobacco Plant. Nicotiana flowers with long, branching stems of translucent pink flowers and interestingly, is most fragrant in the evenings.
Platycodon, Begonia and Catharanthus all add to the English country garden feel with their tiny, delicate little flowers and adding splashes of warm, summer colour we have Pentas Graffiti Lipstick and Primula Vialii!
A closer look at this months collection:
Angelonia
Angelonia plant is just gorgeous and blooms with tiny bunches of lilac to deep purple flowers that some people think smell like apples! The flowers bloom on upright spikes at the tips of the main stems and unlike some plants Angelonia flowers don't need deadheading to produce a continuous display of blossoms - it'll just flower and flower. Angelonia grows well in borders or in containers and also makes a lovely cut flower for a vase indoors. Plant in full sun to partial shade in moist, well-drained soil.
Begonia
Flowering all the way through summer, Begonia will grace your garden with rose-pink, red, and white blooms that look totally spectacular in beds, pots, baskets, and window boxes! Begonia is perfectly suited to the UK climate, and is great choice for the less experienced gardener for some easy summer garden colour. Begonia likes full sun to partial shade in well-drained soil.
Catharanthus
Catharanthus blooms with the most delicate five petaled flowers that almost look like little periwinkle blooms. The delicate purple colours look gorgeous at this time of year and bring an English country garden feel to your pots and containers. Catharanthus also looks beautiful in baskets. Plant in full sunlight or light shade with moist, well-watered soil.
Carex Oshimensis Evergold
Carex evergold, also known as Japanese sedge, is a beautiful foliage plant with stems bearing linear or strap-shaped leaves and short or long spikes of tiny green or brown flowers.
Celosia argentea
Celosia argentea are easily recognisable with their vivid red spikey coloured plumes protruding above bright green to reddish leaves. The flowers are famed for their long-lasting colour all through summer. Easily grown in pots and beds Celosia's blooms also make lovely cut flowers. Grow in a moist but well-drained fertile soil, in full sun and in a sheltered position.
Heliotropium
Helioptropes are native to Mexico and South America, which means they love dry, sandy climates and soil. They are really gorgeous bloomers and bear sweetly scented tiny flowers, which are formed in a dome. They are particularly favoured by butterflies. This gorgeous little plant grows very well in pots and containers, but it also makes a beautiful border plant in beds. Plant in a bright sunny spot (although partial shade is ok too) in dry, well-draining soil.
Ilex crenata
Ilex crenata, the Japanese holly or box-leaved holly is a lovely little evergreen shrub with spiney little leaves. It's slow growing, and although it can make effective short hedging, Ilex really comes into its own and a topiary plant and can be pruned into lots of different shapes. Plant in full sun or partial shade in moist, well-drained soil.
Nicotiana
Another plant with beautiful delicate little blooms in Nicotiana, also known as the Tobacco Plant. Nicotiana flowers with long, branching stems of translucent pink flowers that look particularly elegant planted in pots, but also grow happily in beds. Nicotiana is also evening fragrant (you can smell it best in the evening) which makes it a particularly lovely addition to outdoor seating areas and watching sunsets. Plant in a sunny position in any fertile, moist but well-drained soil.
Green Oxalis
Known as the green flowering shamrock, or the green wood sorrel, Oxalis regnellii has large clover-like leaves and dainty little white blooms. Native to South America it is and elegant and graceful plant that in late spring and over summer blooms pure-white flowers which rise above the unique, triangular bright green leaves. Oxalis regnellii likes a position in full sun or part shade. However, it is frost-tender so expect to give it some winter protection.
Pentas Graffiti Lipstick
Pentas Graffiti Lipstick is a plant that really stands out from the crowd with its big balls of brightly coloured pink to red little star shaped blooms. They flower so uniformly and look just stunning in pots. It's also got a major growth habit and will just bloom and bloom in the right conditions. The Penta prefers sun but can handle some shade and grow best in moist, well drained soil. The Penta is an ever-blooming producer, but does appreciate being deadheaded to increase the blooms.
Platycodon
Also known as the Chinese balloon flower Platycodon grow into large balloon shapes and then burst into lovely, long lasting saucer shaped flowers! Platycodon will grow in any reasonable soil as long as it has good drainage. Choose a position in full sun or light shade and water well after planting.
Primula Vialii
Primula vialii is a very striking plant, with stunning upright poker-shaped, red and lilac to pink flowers. It's perfect for growing in containers or in a partially shaded border. Primula is originally a pond plant, so prefers a shady spot in moist soil. If only a sunny spot is available, then make sure you keep your Primula well-watered to compensate.
Pteris
Pteris is a lovely little fern that brings some beautiful shades of green to any garden display. It looks beautiful in borders and beds and is easy to care for too. Partial sun is ideal in moist, well-draining soil.
---