The plants your outdoor space needs this September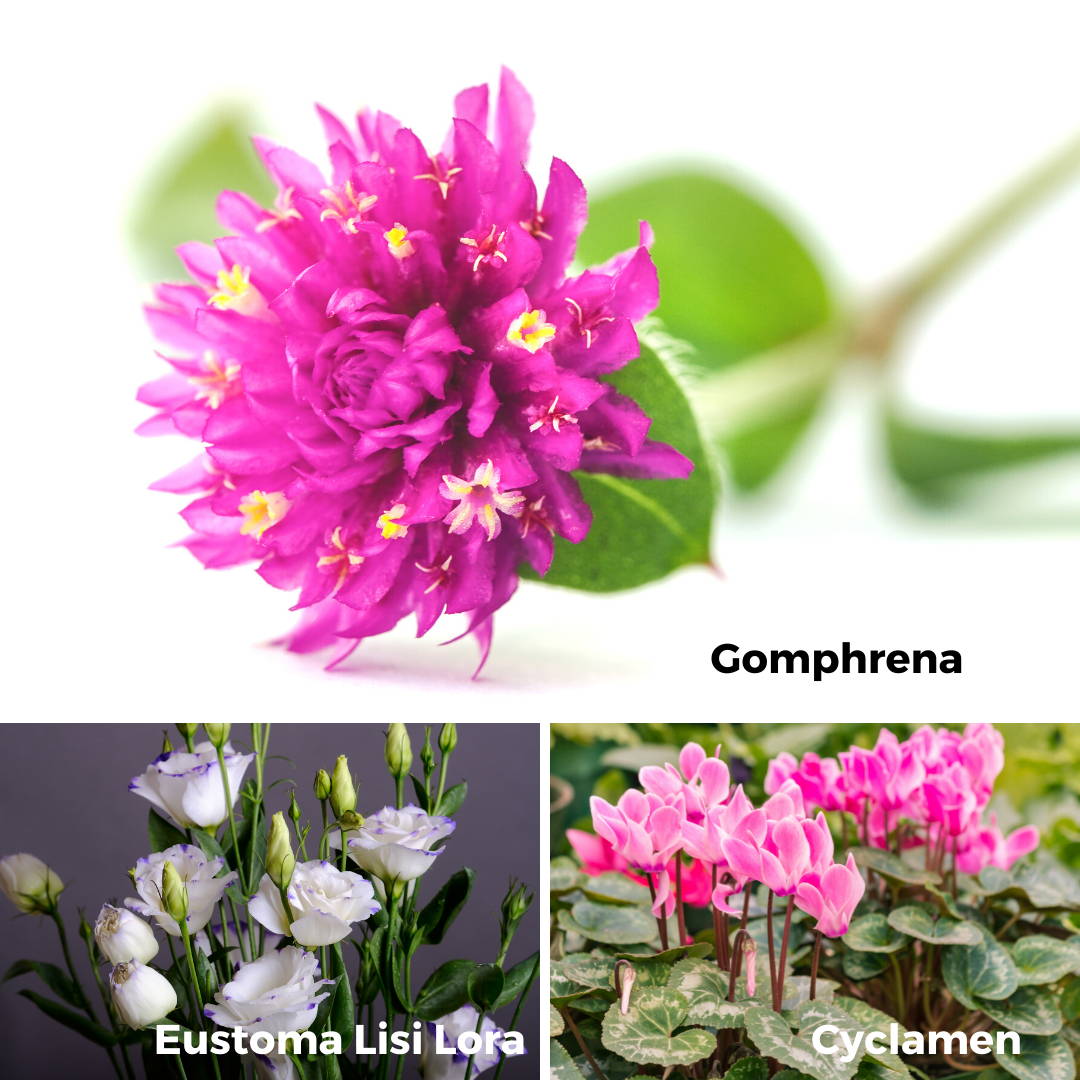 This month we're bringing you the perfect mix of Autumn loving plants to fill your garden with the warmest colours. The plants in this collection have been chosen to complement the changing season and keep it thriving as the temperature dips - gardening isn't just a Summer sport!
It all starts with the gorgeous Gomphrena, it's the perfect answer to this time of year blooming in fuchsia and purples as late as October.
Solanum Pseudocapsicum, also known as Jerusalem cherry, is a really exciting addition this month too. This unique little shrub looks like a baby orange tree and adds real interest to an Autumn garden.
Cyclamen patio actually thrives in the cooler temperatures that the coming months will bring and will bloom well into winter as long as it doesn't fall below freezing. It's gorgeous and makes a beautiful scene when planted near Aster Showmaker and Chrysanthemum Giro Time, also in this collection.
Also deserving of a mention is the gorgeous Eustoma Lisi Lora, a dreamy flower that looks stunning growing in the garden or as a cut flower in a vase. It's often mistaken for a rose but requires a lot less care for as much (if not more) of a reward.
A closer look at this months collection
Gomphrena
Gomphrena is the perfect answer to this time of year, bringing stunningly bright colour to your garden right when some of your earlier summer perennials will be starting to fade. This is a gorgeous, and quite traditional English country garden flower and is also popular with practitioners of folk medicine, who believe it has many healing properties. Gomphrena makes a superb cut flower with its unusual spherical heads of papery petals. Plant in full sun, in well-drained soil.
Aster Showmaker
These cheery little flowers will brighten up patios and beds with an inexhaustible supply of fully double flowers. Blooming in delicate shades of pink and purple, they truly live up to their name of being the 'Showmaker'. Plant in a sunny spot that'll still get a little shade through the day and in well-drained soil. If the only option is full-sun, water them a little more regularly.
Senecio Cineraria
Senecio Cineraria's common name is 'angel wings and it's not hard to see why with its large, silvery-white leaves. They have a soft, downy texture, and make an eye-catching feature for a border or pot. Your Angel wings will thrive in a hot, sunny spot., where it will quickly forms a good-sized clump of beautiful leaves. Drought tolerant once established.
Solanum pseudocapsicum
Also known as the Jerusalem cherry, Solanum pseudocapsicum is a gorgeous little shrub that looks like a mini orange tree. It really does have the wow factor and looks amazing in a pot or planter. The ideal position for Jerusalem Cherry is in partial shade or full sun and likes to be well watered. In fact, the soil shouldn't be allowed to dry out at all if possible. Jerusalem Cherry can also overwinter in a cool frost-free spot like a shed, greenhouse or the spare room and can go outside again from May onwards.
Eustoma Lisi Lora
If you're looking for a flower that looks like a rose, but is easier to grow and longer-lasting in a vase then you've found it! Eustoma, more commonly known as Lisianthus, makes a beautiful cut flower and is incredibly popular in bridal bouquets. Plant in a spot with full sun where the plant can get at least six to eight hours of sunlight a day, and in moist but well-drained soil. Eustoma would also benefit from a potassium-rich feed through growing season.
Cyclamen Patio
Cyclamen are beautiful little flowers that bloom in the winter months, giving you garden interest well passed when many of your summer blooms will have fallen back. It can be planted into beds but is usually grown in patio pots (hence the name). It really does prefer the cooler temperatures (but not below freezing), so a shady, sheltered spot where it'll be protected from the elements is best in moist, well-draining soil.
Hedera helix white wonder
Also known as 'white wonder', this Ivy is instantly recognisable to even the most novice of gardeners. Its lovely variegated foliage is made up of small, triangular leaves with creamy-white edges. It forms a cool, green cover on walls or ground but is also wonderful in containers and baskets or draping over walls. Plant in any average garden soil in full sun or part shade.
Gaultheria Big Berry
This lovely shrub is an excellent choice for winter colour, and ideal for a container or pot by the front door, where you'll be cheered by its jolly red berries in autumn and winter. And in the summer, it blooms in white to pale pink flowers. Grow Gaultheria in moist but well-drained, acidic soil in full sun to partial shade.
Chrysanthemum Giro Time
An autumn garden stable, the Chrysanthemum is a hardy flowerer that adds a beautiful pop of colour to your garden. In Chinese culture, the chrysanthemum is a symbol of Autumn and the flower of the ninth month. It's also a symbol of longevity due to its health-giving properties. Plant in a bed or container in a sunny, sheltered position in moist, well-draining soil.
---