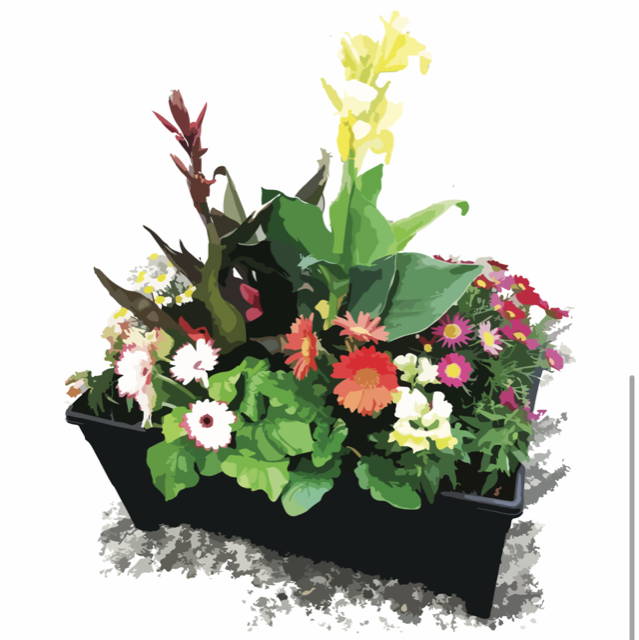 First things first! Let's get to know your soil, good quality soil is deep and fertile, allowing plants to thrive and grow bigger. The condition of your garden soil can vary depending on the area you live in, if necessary, improving its structure and fertility before growing can really pay off.
Soil
Container compost
We recommend using a high-quality peat free compost to keep your container plants looking healthy, our compost contains a blend of fine bark, wood fibre and coir. The bark and wood fibre is sourced sustainably from British managed forests and the coir is obtained from a single known source, making this compost guilt free and environmentally friendly.
Garden soil
The three main garden soil types are sandy, clay and loam. Most garden soil contains all three, sandy soil is gritty and light, making for easy digging. However, water drains freely, which means nutrients leach out quickly too. This means you'll need to add organic matter to help retain the soil health, garden compost or manure will do the trick here.
Clay soil has a rather sticky texture when wet, with water draining much slower after rainfall. The soil becomes hard and cracks when dry, not an easy dig but it does hold water and nutrients well. Adding gritty sand or bark chippings will improve drainage and aerate the soil.
Loam breaks down well when cultivated, it is a rich, healthy soil that retains nutrients and water, without water-logging.
Planting
Whatever you're planting, annuals, perennials or evergreens, preparing the soil is vital. Start by removing any weeds, doing so by hand is the most environmentally friendly way to do so. After weeding, you may dig in some organic matter and rake in a general fertiliser before planting.
When considering plant positioning, grouping plants in threes and fives of one kind will make a bigger impact in your border, especially if it is a larger space. Working with a small space? A single specimen may go the distance, consider whether the plant you chose is fast growing or vigorous. Tall plants work best at the back or the centre of a border, ensuring that they dont hide or shade other plants around them. You may place the smaller or shorter plants at the front, which creates a tiered landscape that lets all plants be seen at once.        
Containers
Planting in containers is a great way to design your own eye-catching display. Troughs, pots and tubs all make for ideal containers, effortlessly transforming areas of your garden that perhaps need softening, more architecture or a splash of colour. What's best? They can be moved around to suit your requirements. Containers come in many different sizes and styles, materials range from ceramic, to timber, terracotta and plastic. You may want to avoid mixing too many different kinds so that you can create a uniform look across the garden.  
A quality peat free potting compost will help your plants thrive, just be sure to keep an eye on watering over the summer months when pots are at risk or drying out quickly. You can use a plant fertiliser to promote flowering from Spring into Summer, don't forget to deadhead your blooms once or twice a week to keep them looking tidy!
When planting your containers, it pays to think ahead and decide whether it will be a seasonal display or have year-round interest.
Summer containers are planted after the first frost, usually containing beddings plants, perennials and trailing plants to soften the edges.
Winter and Spring displays may contain bulbs, Winter flowering plants, evergreen foliage and Spring bedding plants. These containers should be placed in a sheltered spot, you may want to raise them from the floor to prevent waterlogging.
Year-round containers have permanent structure, using hardy evergreen plants such as shrubs, palms, conifers and ivy. As these plants are usually bigger, you can afford to use less of them in your pots, avoid using more than one large specimen per display.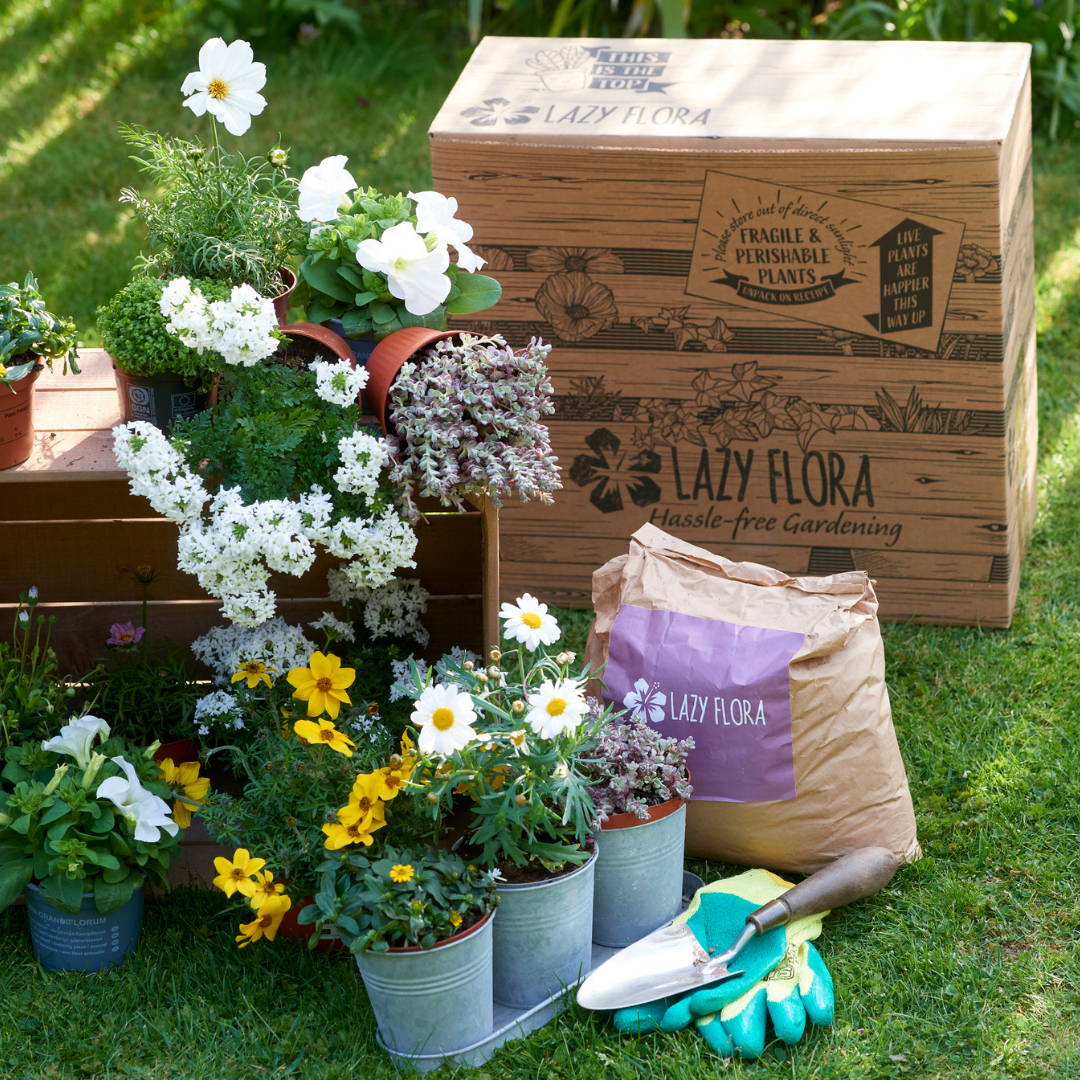 How to make an impact with your planters, Lazy Flora top tips:
Take your time in the planning stage
Once you've picked a spot for your planter, make a note of how much light the area receives. You'll need to know if it gets full sun, part shade or shade. You can then find the right plants for the right place. Try to visualise what your plant selection will look like from a distance, as well as in the future. Will this be a seasonal display or year-round?
Form and function
Your planter should reflect the needs of the space, what surrounds the planter? Is there already a strong focal point? Consider the plants' eventual size, growth habits, flowering time, light and water requirements before planting.
Colour and texture
The colour and texture of your plants make a big impression, keep it simple with 1-3 colours to enhance their impact. Hot colours (red, orange, yellow) dominate the space, making them better placed in the upper half of the display. Remember to think about texture too, there can be harmony in contrast when using spiky or domed plant forms.
Plant positioning
Your arrangement should have a focal point that draws the eye, try not to position your planter too close to any other focal points in your space which may reduce its impact. Larger plants are best placed at the back or the centre, which allows smaller plants to be seen in front. Using trailing plants around the planter's edge is effective in softening the curves or edges of the planter.
Our in house horticulture expert, Sophia, has put together some examples inspired by our July collection, available to download here.
Mentioned in this article
                                 View our new range of Caladiums   Caladiums are some of the most spectacular fo...
                              Subscribe today to get your free gift   Throughout August we are sending our subscribers a gift th...