What's in a Lazy Flora Spring Rainbow plant collection?
Here's a list of all the plants that you could find in your Spring Rainbow plant collection. Please note that you will not find all of these plants in your spring rainbow box delivery, as we modify the selection depending on the availability of plants throughout the two months that this box is available. We only want to bring you the absolute best there is, so there will be differences as the weather changes. All the plants will all be beautiful, however!
Ranunculus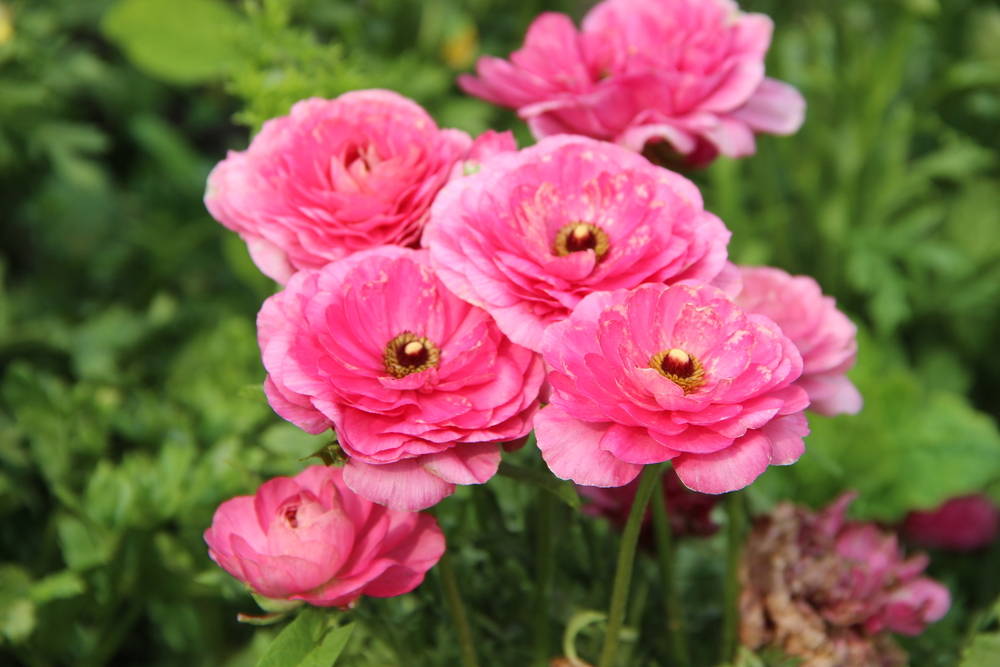 Move over peonies, ranunculus are the new showstopper. These are one of the most fashionable and stylish plants there are, and you'll often find them in gorgeous cut-flower displays.
Despite having a ridonculous name, when Ranunculus are blooming, they make beautiful cut flowers. And cutting flowers will not hurt your plants – in fact, the more flowers you cut, the more the plant will produce.
Grape Hyacinth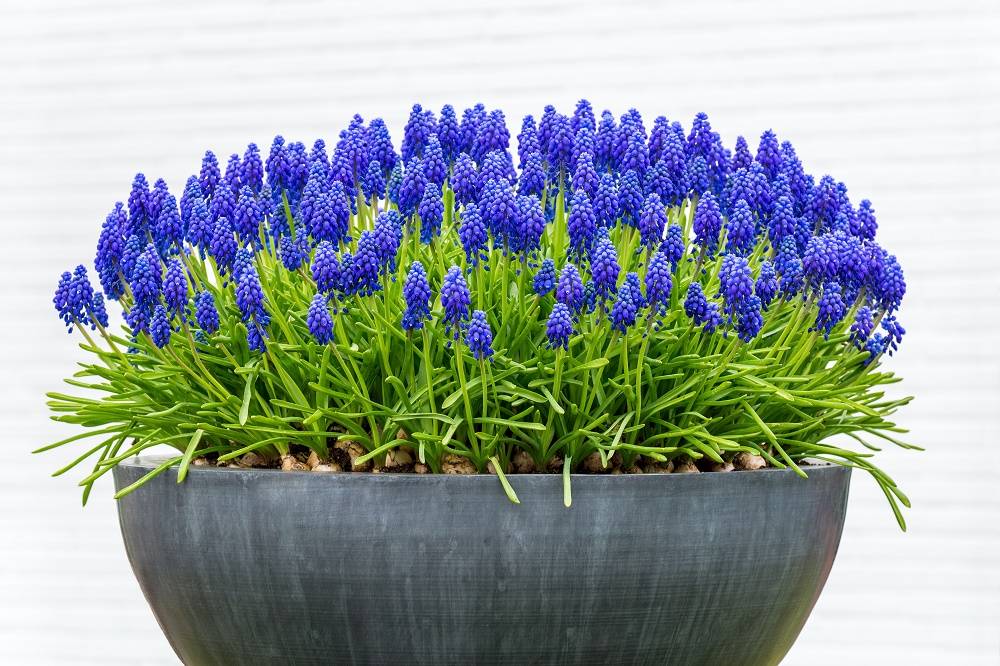 You will certainly have seen grape hyacinths before, but did you know their name, and that they are related to hyacinths? Thankfully, their scent is not as overpowering as the scent of hyacinths can be, but these perky little plants are a lovely splash of blue colour at the start of spring, and if you allow their bulbs to sit undisturbed in the soil, they will return year on year.
These are super hardy, easy-to-grow plants with long-lasting blooms and a lovely light fragrance.
Primula
The name 'primula' comes from the Latin 'primus', meaning 'early' or 'first'. This is because it's one of the earliest spring plants you will see in gardens and woodland. It's a perennial plant that will come back year after year.
If you dead-head primulas throughout the spring, they will continue to flower. They will put on vigorous growth once the spring temperatures start to rise.
Pinks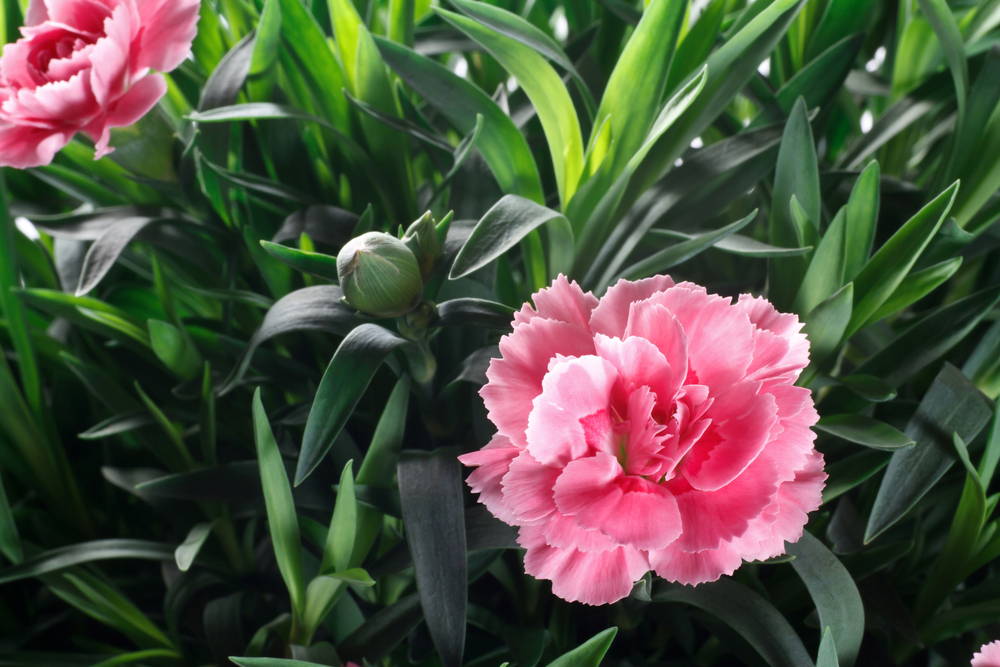 Pinks live up to their name. They are flower profusely, and will continue flowering all the way through the summer, if you find a good spot for them, and ensure they are sufficiently well watered.
The Latin name for Pinks is Dianthus. The Dianthus genus also includes Carnations and Sweet Williams, which look quite similar. These are fantastic cutting flowers, so if you're in need of a stylish and homegrown table adornment, they are the perfect candidate.
Corkscrew Rush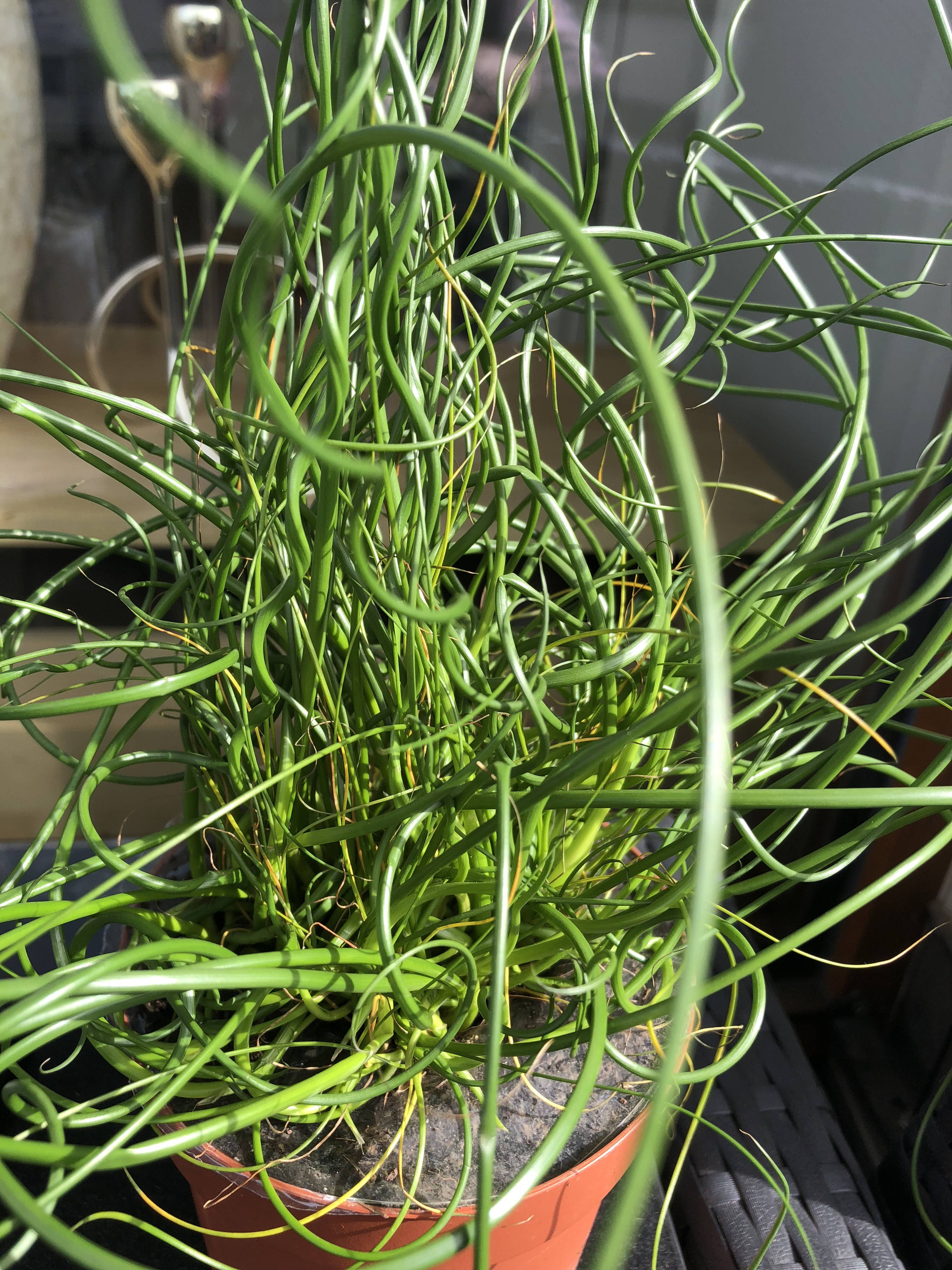 Low-maintenance grass-like perennial which has a messy, unkempt appearance. This is one of the most adaptable plants that we've found so far, as it can deal with moist, wet, sometimes dry, and difficult areas of a garden. This makes it an ideal container gardening plant.
Although the Corkscrew Rush may appear harsh and wiry in pictures, when you get close to it, you realise that the foliage is actually lovely and soft to the touch. This is a perennial plant that will bounce back year after year, looking beautiful.
Bonus awesome fact: there's a variety of this plant that is known as 'unicorn', due to the tall and corkscrew appearance of the stems (this one isn't it though, sorry about that for those of you who are obsessed with unicorns as we are).
Maidenhair Vine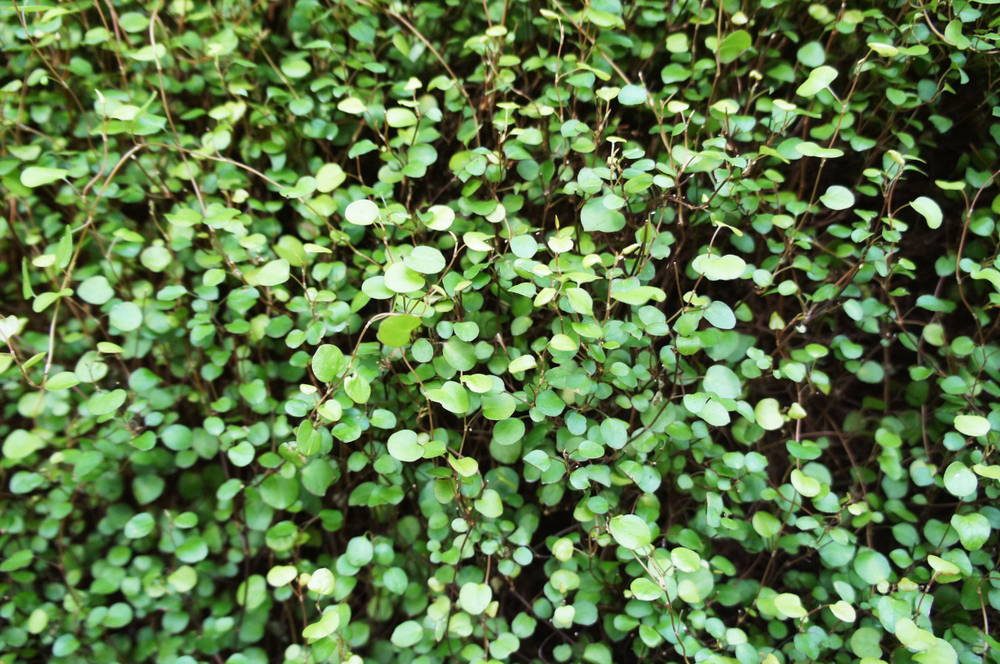 This wiry trailing plant originates from New Zealand and Australia. It can also be kept as a houseplant.
You know that the team at Lazy Flora are big fans of trailing plants, or 'spillers', as we like to call them. The maidenhair vine is a fantastic alternative to ivy, and much less common, so is a lovely bit of variety to introduce to this box.
Narcissus
A popular sight in early spring, Narcissus is actually a member of the daffodil family. This plant is named after the Greek god of the same name. Narcissus was a handsome young man who fell in love with his own reflection in a pond, and fell in an drowned. :-O
Ivy
Ivy is an incredibly hardy trailing or climbing plant that grows up or down according to its position.
Ivy thrives in cold and dark environments. This makes it an extremely popular plant at all times of year. However, in Autumn and Winter, it really comes into its own to add reliable colour and texture to many container gardens.
It is a wonderful plant which can be trained to climb walls, or to tumble elegantly down the front of containers and hanging baskets. Of all the plants in any collection, it is an extremely reliable grower, in almost any situation. This variegated variety is especially gorgeous at this time of year.
Iceland Poppy
This lovely flower provides showy blossoms in late spring and early summer. Like all poppies, however, they are toxic when eaten, so make sure kids and pets don't accidentally eat them.
Bachelor's Button
Otherwise known as Marguerite, Meadow Daisy or English Daisy. This fabulous little flower resembles pom-poms and has a lovely fluffy texture. They are also related to the white Common Daisy that you see everywhere in summer.
They need moist, well-drained soil and enjoy a sunny position in your garden or on your balcony. Like many of the plants in this box, they will benefit from dead-heading if you want to ensure a continuous supply of flowers this spring.
Forget-me-not
Forget-me-nots are often found on the banks of rivers. It is said that they are named for the German words 'Vergiss mein Nicht' spoken by a knight who threw a handful of these flowers as he was swept away from his love down the river. They are often used as a leaving gift or when someone who is moving on to a new job.
Forget-me-nots are an early spring plant, but they won't be the first plants you see of the season. They tend to enjoy fractionally warmer weather than the likes of croci, narcissi, snowdrops and winter aconite, so they will appear in the second wave of blooms you see in early spring.
Alpine Wallflower
This lovely fragrant plant is native to the Alps. Despite being a cheery and colourful addition to any garden, they are actually related to the Mustard family. Because this plant often grows near walls or in cracks in walls or pavements, they are often compared to people who are introverts at parties, who tend to feel comfortable standing at the edge or the room, rather than being the life and soul of the party.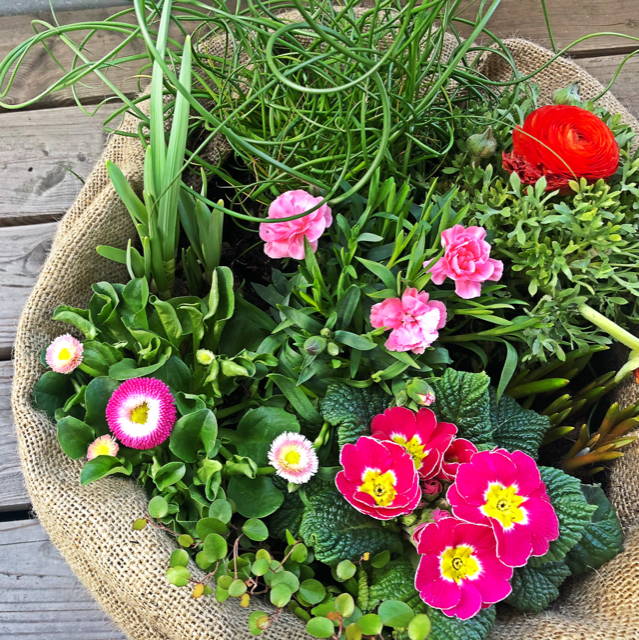 And if you're looking for more all-year-round planting inspiration, take a look at our free Flowering plant calendar right here.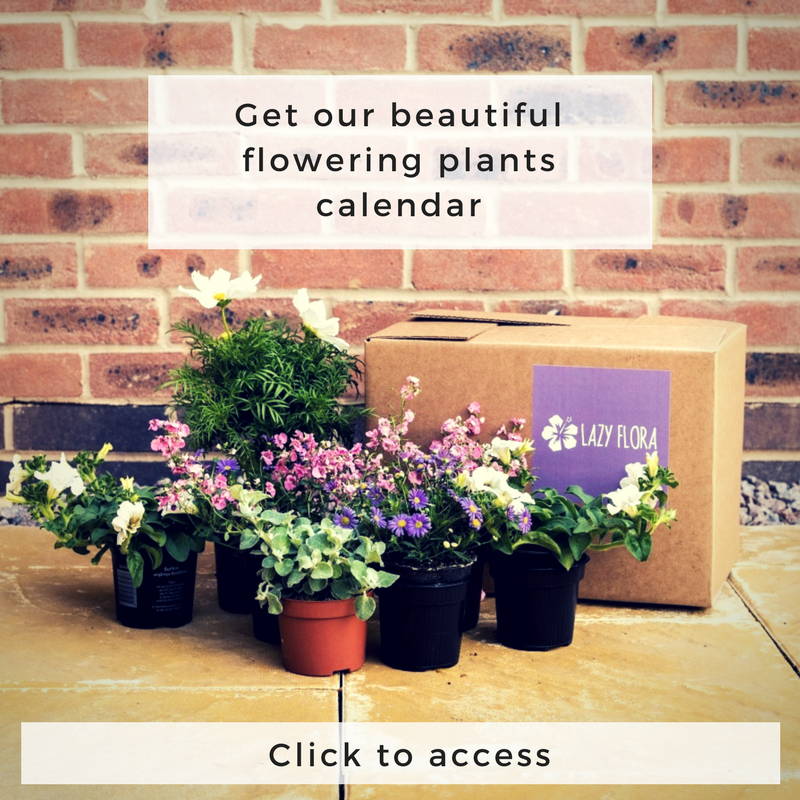 ---